The following properties were shortlisted for the 2017 Governor's Award for Design and Construction Excellence:
Hospitality & Commercial
Kimpton Seafire Resort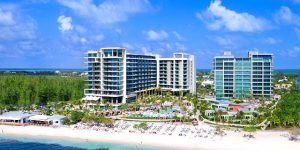 Atypical of the past trend in resort planning on Seven Mile Beach, this hotel resort is set back from the high water mark to create several distinct zones each contributing its special place in th progression from point of arrival to step in sand. The resolute bulk of the twin peaks of the hotel resort are softened by lush landscaping and cascading outdoor experiences. Collaborative use of local artists interprets a Cayman aesthetic and inspires a design that is both edgy and organic- imposing in its presence on Seven Mile Beach, but intimate in its detailing and execution.
Residential
Lindsay Residence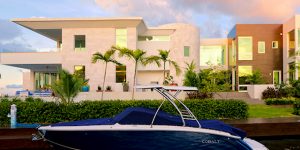 Inspired by the maritime history of the Cayman Islands, the powerfully modernist architecture of this residence embraces a nautical theme with strong linear massing effectively offset by playful interiors and lush landscaping. The dramatic curved bamboo-clad flange wall defines intimate garden spaces and articulates indoor and outdoor precincts that contrast the natural with the manmade. Broad expanses of glass frame vistas to Governor's Sound and reflect the waterscapes that define its form and function.
Murphy Residence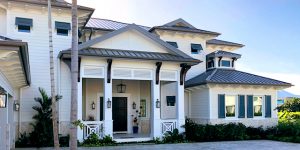 Staying true to Caymanian roots was a primary goal in defining achieving this elegantly modern colonial home. Traditional Caribbean accents such as limestone wall cladding, shutters and louvres feature strongly in a design aesthetic that is west of Jamaica but east of the moon. Seamless transitions from intimate family spaces to a full-on waterfront entertainment venue for friends and guests creates a series of experiences that are redolent of tropical living at its easy-going, sunset-soaked, fun soon-come best.
Residence 'Sun Serenity'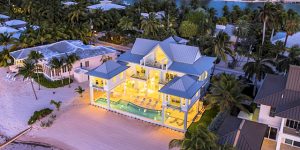 This opulent residence is an example of classic West Indies contemporary architecture squarely placed on a Cayman Kai beach. Finished with rare and exotic materials, the attention to dramatic detail is essential to its sense of majesty and the purpose of its spectacular pavilion suites and third-floor sunset terrace is the total indulgence of all one's senses. Sun Serenity is a one-of-a-kind extravaganza that renders white sand and crystal clear water as inescapably part of this escape-from-reality as the irreverence of its presence. What magnificence!